Sejarmatta, Puresound Custom
Watch this product and we will notify you once it is back in stock.
Sejarmatta, Puresound Custom

Puresound, sejarmattor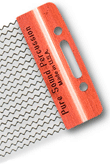 Puresound sejaremattor är handlödda i USA. Med hjälp av högkvalitetsmaterial och genuint hantverk har killarna på Puresound skapat sejaremattor som är överlägsna alla konkurrenter i sound och kvalitet.

Byt din standardsejarmatta mot en Puresound så får du ett ljud du bara kunnat drömma om!
Custom series
Custom Serien består av handgjorda sejarmattor som förbättrar
ditt virvelsound otroligt. Passar custom och standardvirvlar.

Engelsk produktbeskrivning
Custom Series wires feature medium-gauge wire with evenly spaced, standard coils. The Custom line offers four different strand configurations that can be employed to change the balance between the drum and snare components of the sound. Models with more strands tend to allow the snares to be more active in influencing the sound while those with less strands allow the drum to be more prominent in the overall sound.
För all produktinformation, bilder, ljud, video, installationsguide osv besök Puresounds hemsida

Pay as you like
Secure payments
30 days return policy
Price match