Pure Energy: Tony Royster, Jr.
Watch this product and we will notify you once it is back in stock.
Pure Energy: Tony Royster, Jr.
var sc_project=646507; var sc_partition=5; var sc_security="fd7619eb";

Tony Royster, Jr.
Pure Energy


Tony Royster's follow up to his hit video "Common Ground" is nothing but Pure Energy!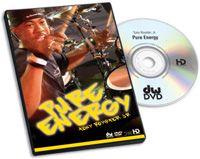 Overhead camera angles capture every fill as Tony and band weave their way through several musical styles -from R&B to Fusion, Jazz and Rock it's all here! Hip-Hop drumming superstar Nisan Stewart joins in as the two solo side by side, then rap about their influences and discuss the finer points of laying it down. Next, Tony breaks down his hand and foot technique, demonstrates his fluid soloing style and talks gear, all in High Definition and 5.1 Surround. Get Pure Energy and get ready to take your drumming to the next level!
Video clip från Drummer world
Recension från Drummer´s Digest

Pay as you like
Secure payments
30 days return policy
Price match