On the Beaten Path: Metal
Watch this product and we will notify you once it is back in stock.
On the Beaten Path: Metal
Alfred Publishing:
On the Beaten Path: Progressive Rock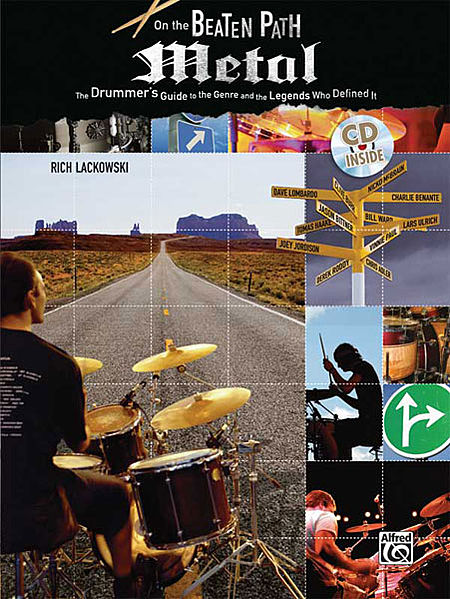 This must-have guide for drummers provides insight into the history and development of the metal genre, and explores a dozen legendary drummers that impacted that style the most.

The book will lead you through the beats, licks, solos, and grooves that made each artist famous, with insight into their approaches, the gear they used, the bands they played in, and the drummers who influenced them.
The easy-to-follow lessons delve into authentic transcriptions of 36 famous beats and solos from songs by Metallica, Slipknot, Meshuggah, Slayer, Pantera, Iron Maiden, Lamb of God, Shadows Fall, Anthrax, and others. Amazing photos are featured as well as a listing of essential recordings. All the beats and solos that are presented in the book are performed on the accompanying CD.

Drummers include:

Chris Adler
Charlie Benante
Jason Bittner
Clive Burr

Tomas Haake
Joey Jordison
Dave Lombardo
Nicko McBrain
Vinnie Paul
Derek Roddy
Lars Ulrich
Bill Ward
…and more!

On the Beaten Path: Metal is a much-anticipated extension to the highly acclaimed, award-winning book On the Beaten Path: The Drummer's Guide to Musical Styles and the Legends Who Defined Them, voted No. 1 Educational Book in the 2008 Modern Drummer Reader's Poll!, and voted No. 1 Book in the 2008 DRUM! Reader's Poll!

"Lackowski shines with his ability to break down the transcriptions into logical steps that serve as the building blocks to ultimately becoming proficient in this musical style. This is a well thought out project that not only explains the mechanics required to perform the selected works, but provides a map to understanding the history of metal drumming. It showcases the many uniquely gifted artists and their contributions to the genre, and offers the inspiration to further continue your own pathway of discovery. I highly recommend Rich Lackowski's On the Beaten Path: Metal - The Drummers Guide to the Genre and the Legends who defined it."
-Drum.com

"From Bill Ward and Nicko McBrain to Chris Adler and Derek Roddy, Lackowski does a great job, in inspiring fashion. 4 stars!"
-Rhythm magazine
| | |
| --- | --- |
| Språk: | Engelska |
| Förlag: | Alfred Publishing |
Shop now. Pay in July.
Secure payments
30 days return policy
Price match