Watch this product and we will notify you once it is back in stock.
var sc_project=646507; var sc_partition=5; var sc_security="fd7619eb";

Kosa: Eleven/Live 2006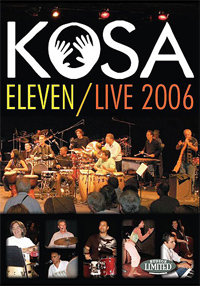 KoSA Eleven/Live 2006 features three hours of instruction and live performances from the eleventh annual KoSA International Percussion Workshop and Festival. This entertaining, informative and highly educational DVD gives you a participant's perspective on the KoSA experience.

Master Instructors include:

Memo Acevedo 'Colombian Cumbia rhythm'
John Amira 'Haitian Drumming'
Clayton Cameron 'Playing Uptempo with Brushes'
Kenwood Dennard 'The Woodstroke Technique'
Jamey Haddad 'Frame Drum Ideas and Other Sounds'
Bernard Purdie 'Groove Routines'
Antonio Sanchez 'Motivic Development'
Ed Soph 'Ride Cymbal Technique'
Glen Velez 'Basic Tar and Bodran Techniques'
And featuring the KoSA Rhythm Section: Rafael Alcala (piano) Jennifer Vincent (bass) Steve Blair (guitar).

Special DVD Features:
A fiery duet featuring legendary conga master, Giovanni Hidalgo, and brush specialist Clayton Cameron
An interview with veteran club drummer and Modern Drummer magazine editor, Rick Van Horn
Legendary artist and educator Jim Chapin addressing the audience at the grand finale concert via cell phone from his bedside while practicing
A tour of the KoSA experience describing the intimate hands-on class instruction and performance
Shop now. Pay in July.
Secure payments
30 days return policy
Price match