John Blackwell: The Master Series
Watch this product and we will notify you once it is back in stock.
John Blackwell: The Master Series

The Master Series: John Blackwell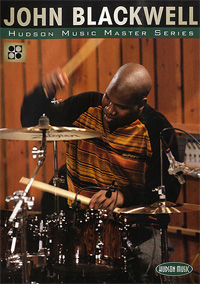 John Blackwell brings his R&B/Funk/Pop drumming mastery to this enlightening educational DVD. Filmed in front of a live audience, John demonstrates the musical skills that habe made him the drummer of choice for artists such as Prince, Patti LaBelle, and Justin Timberlake.
John performs his original compositions with a burning band: Gary Grainger on Bass, Mike Scott on Guitar, and Corey Bernhard on Keyboards. Interspersed among the performances, John touches on topics including grooving/playing in the pocket, foot technique, and showmanship, along with extensive commentary and demonstrations of the grooves and concepts that have influenced him.
Also featured is special guest Marcus Williams, John´s teacher, who leads an extensive master class segment on his amazing foot technique and soloing concepts.
Also includes a PDF eBook containing transcriptions of John´s grooves, as well as other educational material. Also includes Spanish and German translations.

Pay as you like
Secure payments
30 days return policy
Price match