Jeff Queen: Playing With Sticks
Watch this product and we will notify you once it is back in stock.
Jeff Queen: Playing With Sticks
Jeff Queen


Playing With Sticks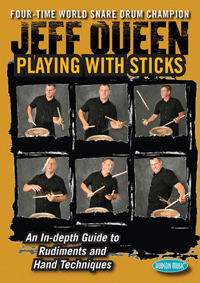 Playing With Sticks features four-time solo snare drumming world champion, Jeff Queen. This DVD presents a comprehensive approach to developing hand technique and a detailed look at contemporary rudimental drumming.
Jeff demonstrates all of the standard rudiments as well as cutting-edge hybrids. In addition, he performs several solos that amply display his incredible technique and virtuosity. Playing With Sticks is designed to work as a companion to Queen's acclaimed book, The Next Level.

Presented here are essential hand techniques ranging from the fundamentals to a detailed analysis of the Moeller technique and Velocity stroke. Jeff demonstrates how to apply these techniques to Flams, Diddles, Rolls and Hybrid Rudiments, and talks about timing, buzz roll control, and offers detailed explanations of 'The Grid' and '4-2-1'.
Also provided is invaluable information on solo construction and achieving speed, plus many backsticking and stick trick ideas. This DVD is a must for any level player, beginner to extremely advanced!
Running Time: 3 Hours, 45 Minutes.
Mer information och videoklipp: Jeff Queen - Hudson Music
Språk: Engelska
Övriga marsch-relaterade titlar på DVD: Lista >>>
dvd marsch

Pay as you like
Secure payments
30 days return policy
Price match