Erskine Method for Drumset
Watch this product and we will notify you once it is back in stock.
Erskine Method for Drumset
var sc_project=646507; var sc_partition=5; var sc_security="fd7619eb";

Peter Erskine
The Erskine Method for Drumset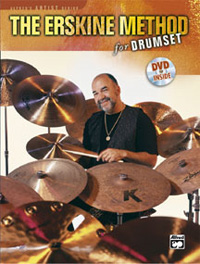 Legendary drummer Peter Erskine reveals the techniques and secrets behind his success as one of the most respected players of all time.
The DVD features Peter demonstrating rhythms and techniques, talking about his playing philosophy and performing with other musicians, and also includes interviews with the members of the Peter Erskine Quartet.
DVD running time: over 2 hrs. 30 min.

Pay as you like
Secure payments
30 days return policy
Price match