Watch this product and we will notify you once it is back in stock.
Drumstick Spinology PLUS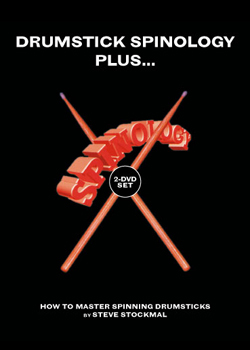 Drumstick spinology got a face lift! We changed the format for you after receiving tons of email and suggestions. We listened to you, and now you have the updated Drumstick Spinology in a double DVD.

The entire previous DVD, the entire Book in PDF Format, as well as a warm up section, Back Sticking, Stick Clicking, New Spins, and examples on the drum set. Also revisited Chapter One with more details.
You are literally moments away from learning the secrets of pro level drumstick spinning! This is the "no frills" Brand New double DVD which runs for 139 minutes!
Just me and the camera so that you can GET IT and start spinning NOW.
Pro drummer Steve Stockmal teaches the art of spinning drumsticks in this world renowned 139min, multi-regional Double DVD.
Drumstick Spinology is the world´s first course designed to teach drummers the secret methods to master drumstick spinning. It is a complete method, including not only the two DVD´s so that you can see everything in real time and slow motion, but the book is included as well, with pictures, diagrams, and full detail explanations of EVERYTHING.
THE FIRST SYSTEM EVER ON SPINNING DRUMSTICKS!

This unique and complete system contains: 80 pages; 5 chapters: 15 Basic spins, 70 Variations, 22 Applications, plus 7 Combination forms, all on TWO DVD´s!!
The Book: DRUMSTICK SPINOLOGY is devoted to spinning drumsticks. Drummers will now be able to add a variety of visual effects to spice up their live performances. You will find the entire book on Disc 2 in PDF format.
The 2 DVD´s bring each spin to life with close up shots, slow motion, detailed explanations, and live playing examples at the drum set, showing you how to incorporate this knowledge into your playing!
The Second Disc Includes a warm up section, Back Sticking, Stick Clicking, New Spins, and examples on the drum set.
By the time you get through this body of work, you will have an extensive knowledge of spins to start putting your own show together.
The techniques and method described within will not only give you the tools to develop spinning drumsticks, but will help you to expand your repertoire, create your own spins, and develop your style on the stage by adding to your performance as a drummer and musician.

Pay as you like
Secure payments
30 days return policy
Price match