Dave Grohl - Drum Legends
Watch this product and we will notify you once it is back in stock.
Dave Grohl - Drum Legends
Drum Legends
Dave Grohl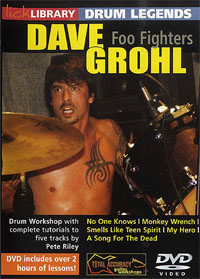 Learn to play five Dave Grohl tracks note for note with Pete Riley!
This excellent DVD will teach you essential drum rhythms, grooves and techniques from the multi-talented musician and songwriter Dave Grohl.

Over 2 hours of lessons in this Drum Workshop, with complete tutorials by Pete Riley, to five examples of his powerful and dynamic style taken from his across his career with Nirvana, Foo Fighters and Queens of The Stone Age.

Track lessons include: A Song For The Dead, Monkey Wrench, My Hero, No One Knows
Pete Riley has worked with artist as diverse as Republica, Motorhead and more recently Keith Emerson of ELP fame. He´s a regular contributor to Rhythm magazine and author of three bestselling drum tuition books.

Pay as you like
Secure payments
30 days return policy
Price match