Watch this product and we will notify you once it is back in stock.
var sc_project=646507; var sc_partition=5; var sc_security="fd7619eb";

Terry Bozzio & Chad Wackerman
D2: Duets Volume Two


Terry Bozzio and Chad Wackerman in their much anticipated encore performance.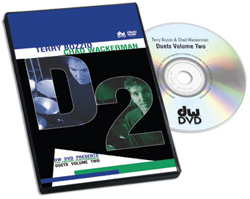 Recorded following their sold out multi-city tour, the two drumming legends are captured via dramatic multi-angle camera views. Complete with insightful interviews and active graphics explaining their unique melodic approach to drumset, this DVD is a must for every drumming enthusiast's video library.

Pay as you like
Secure payments
30 days return policy
Price match