Carmine Appice: Guitar Zeus
Watch this product and we will notify you once it is back in stock.
Carmine Appice: Guitar Zeus

Carmine Appice
Guitar Zeus, play-along


Carmine´s legendary Rock n Roll drumming is presented in this Ultimate Play-along Book/CD package. Recorded with his Guitar Zeus project, Carmine includes new music featuring the guitar greats of today including Ted Nugent, Zakk Wylde, and Paul Gilbert. Each note for note transcription is included along with easy to follow charts and Carmine´s performance notes and thoughts on each song. Lessons include rocking in odd time signatures, keeping it simple, drum fills, and double bass ideas.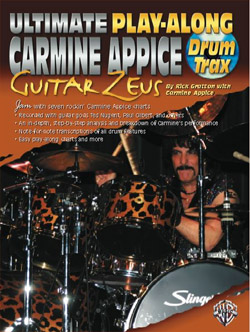 Drum legend Carmine Appice had the brilliant idea to write and record a project that would spotlight the guitar "gods" from around the world. With the help of band mates Kelly Keeling and Tony Franklin fusing their writing and playing talents with Carmine, the Guitar Zeus project was born. This play-along package includes Carmine´s drum parts selected from the CDs Guitar Zeus I and II which highlight the monster guitar talents of Ted Nugent, Paul Gilbert, Stevie Salas, Yngwie Malmsteen, Richie Sambora, Neal Schon, and Zakk Wylde. Included are full drumset transcriptions with Carmine´s thoughts on how and why he played his killer drum grooves and fills, followed by the play-along drum charts so you can rock out and jam on your own!
Each book in the Ultimate Play-Along series features the finest professionally recorded tracks, complete transcriptions, detailed explanations, and performance notes. Each song has demonstration tracks that can be used for learning and practice and then turned off to allow playing parts along with the CD. Solos are fully demonstrated and explained.

| | |
| --- | --- |
| Språk: | Engelska |
| Antal sidor: | 64 |
| Förlag: | Warner Music |

Pay as you like
Secure payments
30 days return policy
Price match