Building Bass Drum Technique
Watch this product and we will notify you once it is back in stock.
Building Bass Drum Technique
Ron Spagnardi
Building Bass Drum Technique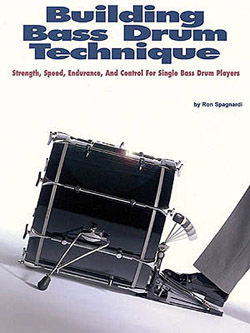 This book from Modern Drummer publisher Ron Spagnardi will help drummers using a traditional single bass set-up attain the most effective and efficient results from their playing.
In a simple and methodical manner, it presents bass drum development exercises using 8th notes, triplets, two common 16th-note figures, straight 16th notes, 16th-note triplets, and 32nd notes. The last section of the book presents five challenging solos using combinations of the previously studied material.

An ideal book for single bass drummers who wish to develop a greater level of bass drum foot strength, speed, endurance and control. Written by a renowned expert in the field to assist your playing.

| | |
| --- | --- |
| Språk: | Engelska |
| Antal sidor: | 84 |
| Förlag: | Modern Drummer |

Pay as you like
Secure payments
30 days return policy
Price match