Progressive Independence: Rock
Watch this product and we will notify you once it is back in stock.
Progressive Independence: Rock
Ron Spagnardi
Progressive Independence: Rock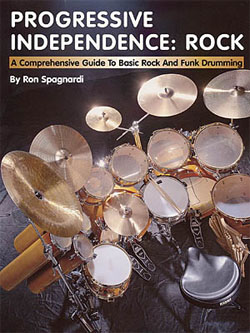 This book written by the publisher of "Modern Drummer" magazine is designed to help players gain an extremely high level of coordinated independence for rock drumming performance, thereby freeing all four limbs from dependence on one another.
Once the material in this book has been mastered, students will be capable of playing almost any rhythmic figure on snare and bass drum, in combination with six varied hi-hat/cymbal patterns, while the hi-hat foot plays quarter notes, 8th notes or upbeat 8ths.
| | |
| --- | --- |
| Språk: | Engelska |
| Antal sidor: | 164 |
| Förlag: | Hal Leonard |
Reviews
Product review
Based on 1 ratings.
Det här är nog bland dem bästa Trumböcker jag har haft nöje att investera i ! Rekomenderar den här för alla Trummisar på alla nivåer! Den startar (för en mer avanserad trummis) skrattretande simpelt, Perfekt för alla nybörjare! Men blir 'Progresivt' mer avanserad ju längre man följer boken. Vänsterfoten är en stor roll i boken, man blir mer rytm säkrare och och funkar också perfekt som ett Trumlexikon för Rock-Komp.

Pay as you like
Secure payments
30 days return policy
Price match