On the Beaten Path: Progressive Rock
Watch this product and we will notify you once it is back in stock.
On the Beaten Path: Progressive Rock
Alfred Publishing:
On the Beaten Path: Progressive Rock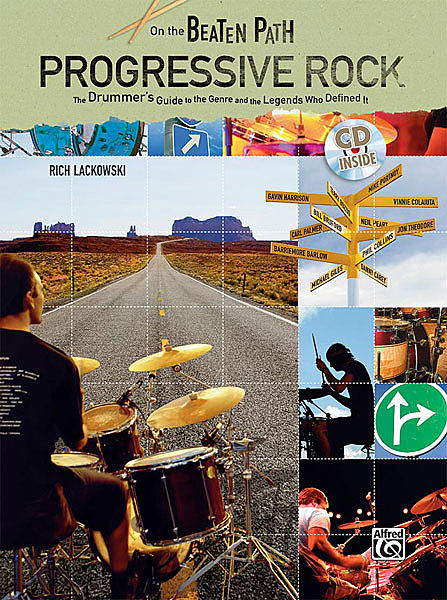 This must-have guide for drummers provides insight into the history and development of the progressive rock genre, and explores a dozen legendary drummers that impacted that style the most.

The book will lead you through the beats, licks, solos, and grooves that made each artist famous, with insight into their approaches, the gear they used, the bands they played in, and the drummers who influenced them.

The easy-to-follow lessons delve into authentic transcriptions of 36 famous beats and solos from songs by Porcupine Tree, The Mars Volta, Tool, Dream Theater, Rush, Frank Zappa, Yes, King Crimson, Jethro Tull, and others. Amazing photos are featured as well as a listing of essential recordings. All the beats and solos that are presented in the book are performed on the accompanying CD.

Drummers include:

Barriemore Barlow
Terry Bozzio
Bill Bruford
Danny Carey
Vinnie Colaiuta
Phil Collins
Michael Giles
Gavin Harrison
Carl Palmer
Neil Peart
Mike Portnoy
Jon Theodore
…and more!
On the Beaten Path: Progressive Rock is a much-anticipated extension to the highly acclaimed, award-winning book On the Beaten Path: The Drummer's Guide to Musical Styles and the Legends Who Defined Them, voted No. 1 Educational Book in the 2008 Modern Drummer Reader's Poll!, and voted No. 1 Book in the 2008 DRUM! Reader's Poll!

"Capturing the essence of prog drumming in an educational book isn't easy, but Lackowski does a fine job. Lackowski proves himself a true aficionado and a trusted source. 4-stars!"
-Modern Drummer Magazine

"This is where Lackowski shines! He has a gift that enables him to break down the core elements of a musical piece and translate those ideas into easily understandable written notation. On the Beaten Path: Progressive Rock is a must for anybody who wants to get on the inside track to understanding their heroes."
-Drum.com
| | |
| --- | --- |
| Språk: | Engelska |
| Förlag: | Alfred Publishing |
Shop now. Pay in July.
Secure payments
30 days return policy
Price match