Extreme Interdependence: Drumming Beyond Independence
Watch this product and we will notify you once it is back in stock.
Extreme Interdependence: Drumming Beyond Independence

Marco Minnemann
Extreme Interdependence


Cutting edge techniques to master 4 limb independence from the German drum sensation Marco Minnemann. This method will dramatically increase one´s independence and coordination skills and help develop facility on the drum set in all styles.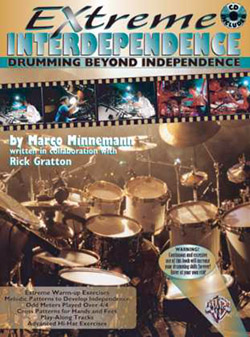 Included are patterns, melodies for two limbs, extreme Hi-Hat & Flam techniques, extreme soloing and independence grooves and more A bonus section includes play along material from Marco´s solo CD´s and actual workshop sheets from Marco´s amazing clinics. Interdependence - the ability to switch any pattern to any limb at any time...complete freedom!
This method builds upon your independence skills, allowing you to be conscious of how each limb interacts with the others. It´s guaranteed to increase your drumming skills dramatically and increase your flexibility to adapt to all music styles! Includes:
Extreme Warm-up Exercises
Melodic Patterns to Develop Independence
Odd Meters Played Over 4/4
Play-Along Tracks
Advanced Hi-Hat Exercises
| | |
| --- | --- |
| Språk: | Engelska |
| Antal sidor: | 102 |
| Förlag: | I.M.P / Warner Music |
Du har väl inte missat de övriga titlarna med Marco Minnemann? Här är listan.
Shop now. Pay in July.
Secure payments
30 days return policy
Price match