Dennis Chambers: In The Pocket
Watch this product and we will notify you once it is back in stock.
Dennis Chambers: In The Pocket
var sc_project=646507; var sc_partition=5; var sc_security="fd7619eb";

Dennis Chambers
In the pocket


Dennis Chambers is one of the funkiest and most electrifying drummers on today´s music scene. His grooves have burned through recordings by Mike Stern, The Brecker Brothers, Bill Evans, Gary Thomas, Special EFX and more.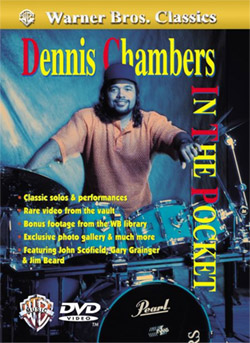 Here, together for the first time since 1987 with former bandmates John Scofield, Gary Garinger, and Jim Beard, Dennis´ funk-meets-jazz style drives tunes such as So you say, Cissy Strut, and Blue matter. His unique blend of musicality and chops is evident on versions of Pick Hits and Loud Jazz.

In addition, Dennis and Gary demonstrates the groundbreaking drum and bass grooves from the three songs that changed the course of soul, funk and fusion drumming:Cold Sweat, Cissy Strut, and Chameleon. Dennis explains what it means to play in the pocket and shows how he does it, using the classic P-Funk grooves Flashlight and One Nation Under A Groove as his examples.

In the Pocket provides valuable insight into this extraordinary drummer, both as a soloist and in inspired performances with this exceptional band.


Songs Include:

Blue Matter/Chambers
Flashlight/Chambers
Loud Jazz/Chambers
One Nation Under A Groove
Pick Hits/Chambers
So You Say/Chambers
Shop now. Pay in July.
Secure payments
30 days return policy
Price match