Buddy Rich Collector's Edition
Watch this product and we will notify you once it is back in stock.
Buddy Rich Collector's Edition
var sc_project=646507; var sc_partition=5; var sc_security="fd7619eb";

The Buddy Rich Collector´s Edition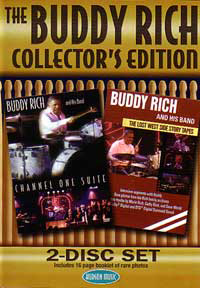 A must for any Buddy Rich fan, this double-DVD set is a compilation of the Emmy Award-winning Channel One Suite DVD and The Lost West Side Story Tapes DVD.
Lost for over a decade, and damaged by fire, the tapes have been recovered and digitally restored, preserving an historic moment in Jazz history exactly as it was recorded in 1985. The performance was among the first to be recorded in Surround Sound, and the original soundtracks have been in Dolby and DTS formats.
The end result is a bird´s-eye view of the Buddy Rich band at the climax of the awesome drummer´s legendary career. Added to the shows are bonus tracks, interviews, behind-the-scenes archives and clips of Buddy on the Johnny Carson Show. Included with the DVD is a 16-page booklet of photos and remembrances.
At 67 years old this is Buddy Rich at his very best.
Shop now. Pay in July.
Secure payments
30 days return policy
Price match