Watch this product and we will notify you once it is back in stock.

John Riley
Beyond Bop Drumming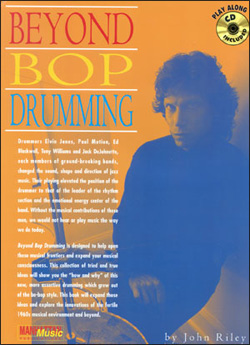 Beyond Bop Drumming is John Riley´s exciting follow-up to the critically acclaimed Art of Bop Drumming. Based on the drumming advancements of the post-bop period of the 1960s, the book and audio topics include: broken time playing, ride cymbal variations, up-tempo unison ideas, implied time metric modulation, solo ideas, solo analysis, complete transcriptions, and play-along tunes.
Drummers Elvin Jones, Paul Motion, Ed Blackwell, Tony Williams, Jack DeJohnette, each members of ground-breaking bands, changed the sound, shape and direction of jazz music. Their playing deviated the position of the drummer to that of the leader of the rhythm section and the emotional energy center of the band. Without the musical contributions of these men, we would not hear or play music the way we do today.
This book is designed to help open these musical frontiers and expand your musical consciousness. This collection of tried and true ideas will show you the "how and why" of this new, more assertive drumming which grew out of the bebop style. This book will expand those ideas and explore the innovations of the fertile 1960´s musical envoronment and beyond.
The 72 minute CD includes features exercise examples and play-along tunes with Tim Ries (Tenor/Soprano Sax), Jim McNeely (Piano), Jay Anderson (Bass), and John Riley (Drums).
| | |
| --- | --- |
| Språk: | Engelska |
| Antal sidor: | 78 |
| Förlag: | I.M.P / Warner Music |

Pay as you like
Secure payments
30 days return policy
Price match