Watch this product and we will notify you once it is back in stock.
Ron Spagnardi
Accent Control -Accent Patterns for Technique and Solo Development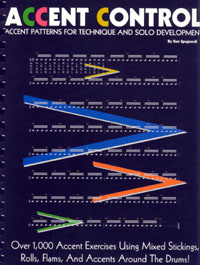 A must-read for every drummer, this exceptional book by Modern Drummer magazine founder and publisher Ron Spagnardi will help you become the master of your kit! It feature over 1,000 accent exercises using mixed stickings, rolls, flams and accents around the drums. The book will be teaching you the intricacies of accent control and patterns for technique and solo development.
| | |
| --- | --- |
| Språk: | Engelska |
| Antal sidor: | 114 |
| Förlag: | Modern Drummer |
Reviews
Product review
Based on 1 ratings.
En väldigt bra bok när det gäller accentuering. Här får läsaren en grundläggande vägledning när det gäller att utveckla accentuering både som 8 delar trioler och 16 delar. Märkte hur jag började accentuera automatiskt efter ett gäng timmar i denna bok. Speciellt kul är det att dela ut slagen runt hela trumsetet. / Christoffer - hvite_krist@hotmail.com
Shop now. Pay in July.
Secure payments
30 days return policy
Price match