Watch this product and we will notify you once it is back in stock.
2Box

Speedlight Kit
---
Speedlight är ett kraftfullt digitaltrumset som skiljer sig från mängden. Inte bara genom den synbara utan framför allt det som finns under huven – trummodulen DrumIt3 som erbjuder dig en av marknadens bästa trummoduler.
Speedlight är robust och välbyggt och försett med realistiska spelytor. Nätskinn på pukor och virvel, stora cymbaler och en fullstor 14" hi-hat på riktigt stativ. Redan här sticker trummorna ut som ett väldigt attraktivt digitaltrumset men som alltid är det trummodulen som utgör det viktigaste i alla digitala trumset.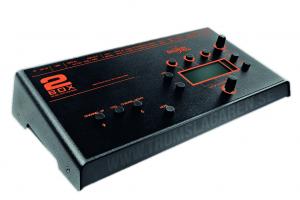 Svensk ingengörskonst - för maximal spelupplevelse
Modulen är både hjärnan och själen och det är just modulen som gör 2Box Speedlight unikt. Svenska 2Box är minst sagt världskända för den. Vi pratar inte om hur fantastiska ljuden är, hur tekniskt avancerad modulen är - utan den öppna arkitekturen som ger dig möjligheten att själv byta och editera ljud precis som du önskar. Dessutom kan modulen hantera nästan alla trumpads på marknaden så om du vill byta ut eller expandera så har du nästan oändliga möjligheter.
Trumset

1* 14 inch Hi-Hat Pad with Stand.
1* 12 inch Crash cymbal with choke
1* 14 inch Ride cymbal with Bell, bow ,edge and choke detection
1* 10 inch Snare with Rim. Mesh head and rubber edge
3* 8 inch Toms with Rim. Mesh head and rubber edge
1* Kick Drum
1* Holder for Module compatible with DI3 or DI5Mk2
Rack stand with holders for all pads and cymbals.
Set of 8 ¼" Stereo Jack Cables between Module and Pads/cymbals including Velcro straps
The floor space needed to set up the kit is: 1,2 m x 0,70 m, plus added space for your drum throne
DrumIt Three

44.1 kHz Sample rate with 24 bit digital to analog converters
4 GB sound memory
15 Universal trigger inputs configured as kick, snare with rim, 4 toms with rim, 1 Hi-hat and 3 cymbals
All inputs are fully configurable to whatever pad you desire
3-zone snare and cymbals are supported
4 outputs
Line in
Headphone
Midi In/Out
USB for transferring data
A massive free of charge library. Full of sounds made by professional and famous drummers
Sounds are multi-layered for unparalleled sound quality and playing response
Trigger and play along to loops – freely assignable to any trigger input.
Play along to WAV song files or metronome or connect your media player to the line in socket
Comes with our Kit and sound editor (Windows and Mac) to create your own kits
The unique universal trigger technology allows you to augment your Speedlight kit with other manufacturers hardware.
Advanced control features enable triggering functions such as start/stop for loops or metronome
Switching of kits up and down are freely assignable to any of the 15 trigger inputs
Multi plug AC power supply 100-240V
Shop now. Pay in July.
Secure payments
30 days return policy
Price match